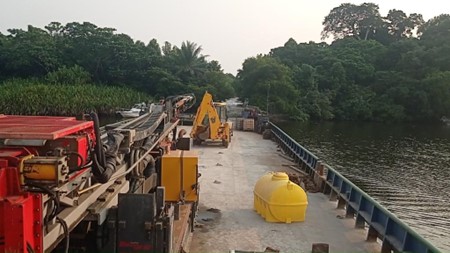 PROJECT HIGHLIGHTS
100% Ownership Acquisition – Millennial Potash has entered into an agreement with Equatorial Potash to acquire up to 100% of the Banio Potash Project in Gabon through a series of cash and share payments and commitment of certain exploration expenditures
Large Potash – Bearing Basin with Drilling - Initial drilling intersects significant potash-rich horizons from 230m to 520m depths. Continuous carnallite and sylvinite seams ranging from 1.0m to 28.8.8m thick, significant potential for upside. Potential solution mining method and amenable to modular expansion decreasing initial CAPEX
Strategically Located with Good Infrastructure - Project located in the West Africa Potash Basin but situated in mining and development-friendly Gabon. Ideally located closer to Brazil than current suppliers supporting cost and time savings. Good infrastructure; Exploration Camp, drill rigs, historic drill core on site.
Right Management Team | Replicating Past - The Board and Management are led by Farhad Abasov, Graham Harris, Peter MacLean, and Jason Wilkinson. The team has built and successfully exited multiple resource companies including Millennial Lithium, Allana Potash, Potash One, Energy Metals. Highly experienced in potash; developed and exited two large potash projects in Africa and North America.
Positive Dynamic in the Potash Sector - Significant supply constraints in Russia/Belarus. Solid potash price growth. Ideal time to invest in the potash sector as global supplies constrained due to the disruption and removal Russian and Belarus suppliers from the global markets
PROJECT LOCATION
The Banio Project covers 1,238 km2 and is located in the south-west corner of Gabon approx. 450 km south of Libreville along the Atlantic coast. Banio is located on the seaward side of a long lagoon which extends from Mayumba in the north to the border of Republic of Congo.
Mayumba is a small port city approx. 50 km north of the main project area and is accessible by road and a major airport.
Access to Banio site via several accessible roads to Mayumba and waterways provide alternative access to the project.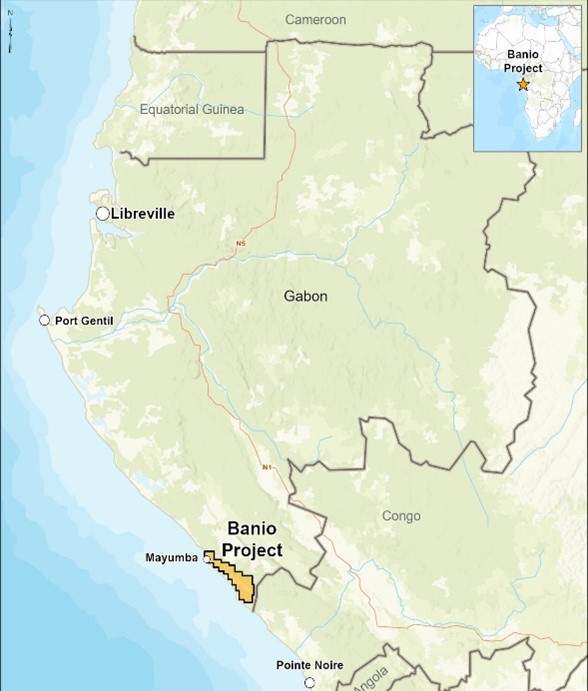 REGIONAL SETTING
Millennial Potash project lies to the north of the border with the Republic of Congo, which hosts significant potash deposits and historical mines. The Banio project is located 70 km north of the world class Sintoukoula potash deposits, and is located within the same sedimentary horizons, and within the same extensive 'Congo Potash Basin'.
The potassium bearing salt layers extend into Gabon, at similar depths and thicknesses.
Nearby potash projects include:
PROJECT EXPLORATION HISTORY
A three-hole drill program including BA-001, BA-002 and BA-003 was completed by Infinity Resources on the Alpha Section in order to test the previously reported Exploration Target.
Drill holes BA-002 and BA-003, drilled 2.2 km apart, were successful in intersecting multiple wide potash seams (see Figure 1 ). Drill hole BA-01 was stopped at 364 m after intersecting steeply dipping evaporites (ASX release 11 April 2017 ).
* BA-002 returned:
1.9m at 29.5% KCl from 284.4m sylvinite,
1.4m at 34.9% KCl from 281.0m sylvinite,
1.0m at 29.7% KCl from 263.9m sylvinite,
2.6m at 32.9% KCl from 324.6m sylvinite
7.2m at 18.8% KCl from 409.7m, incl. 4.4m at 21.4% KCl from 409.7m carnallitite, and
28.8m at 16.1% KCl from 438.7m carnallitite
* BA-003 returned:
1.7m at 30.0% KCl from 237.8m sylvinite,
1.0m at 29.7% KCl from 264.6m sylvinite,
3.9m at 21.2% KCl from 430.26m carnallitite,
11.8m at 16.0% KCl from 456.98m carnallitite,
13.3m at 18.2% KCl from 471.15m carnallitite, and
6.4m at 16.0% KCl from 500.61m carnallitite
*Plymouth Minerals Ltd. press release Aug. 15, 2017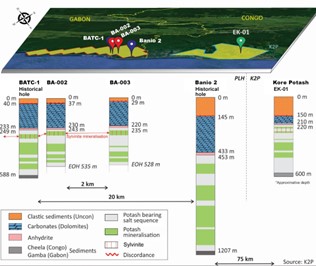 PATH FORWARD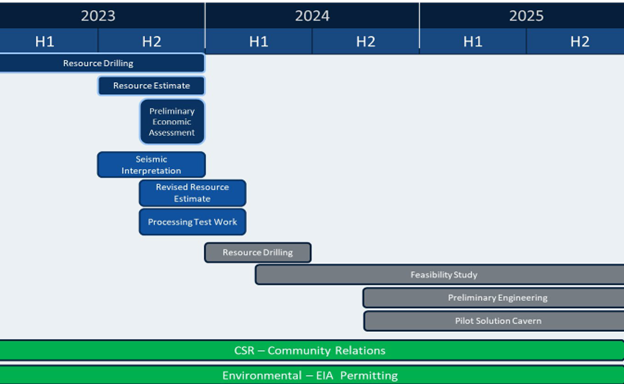 Initial Phase 1 exploration program to be expedited as drill equipment is on site and camp infrastructure in place for rapid start-up.
Phase 2 drilling to be followed by updated mineral resource estimate (MRE) and preliminary project evaluation.
Upon completion of the MRE, Phase 3 exploration will follow and include a resource update, technical studies, and initiation of a Feasibility Study in H1, 2024.